Overview: This Batch Photo Printing feature will allow you to select as many photos as you like (hundreds) and batch print them 2 to a page, 4 to a page, 6 to a page, any number you wish per page. Just click a few buttons and walk away and let the software and your printer do the work.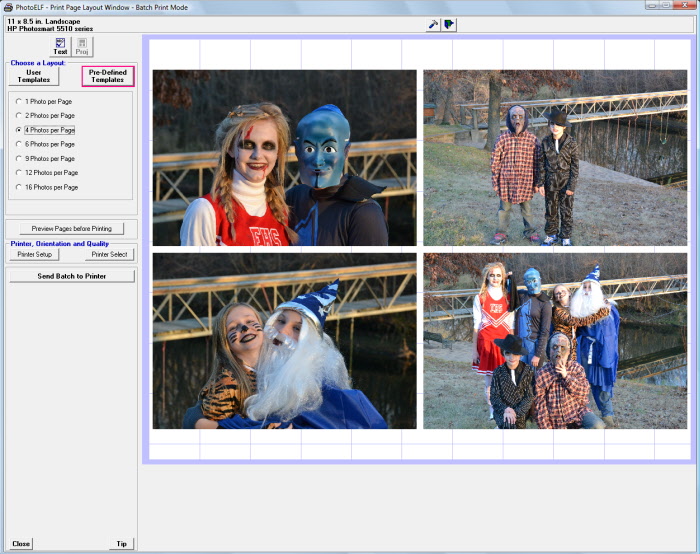 ---

How to Batch Print:

As with all of PhotoELF's batch operations, you first Multi-select the photos you wish to print, or select an entire folder of photos. Then look in either the File menu or the Edit menu and select: Batch Printing

Note: You may select as many photos to print as you wish, even thousands.


---
Selecting a Layout: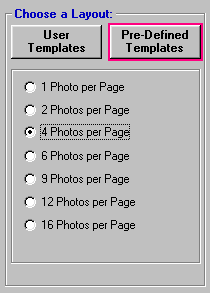 Once the Batch Photo Printing window appears, you may select a template. Either a User Defined template or Pre-Defined template.

You may create your own photo printing templates. See: Projects and Templates

---

When you select a photo , you will be presented with an example of what that layout looks like.

If you like the layout, click the Begin Batch Printing button or select a different layout.

At this point, your photos will be scanned for errors, (pictures that may not load or selected files that are not photos). Once this error checking has been accomplished, you will see the following prompt: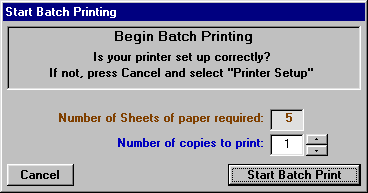 This prompt will remind you to check your printer settings, (quality, paper size, paper type etc.). Make sure the printer is set up correctly before the batch print job begins.

This prompt will also show you how many sheets of paper to load in your printer. If you wish to print two or more copies of each page, increase the number of copies and the required sheets number will automatically be updated.

Once you click the Start Batch Print button, the print job will begin.

PhotoELF will then load photos, per the template layout, and send each page to the printer, automatically, until all photos and pages have been sent to the printer.

---
HINTS:
Once the batch print job begins, there is not a good way to stop it, so make sure you have your printer set up correctly first.
Your printer, (not PhotoELF), will consume almost all of your computer's resources during this process.
It is best to close all other programs before beginning
It is also best to not use your computer for other things during this process
Begin the job and walk away.
If, for some reason, you do wish to stop the print job, here is the best way:

Remove all of the paper from your printer's paper tray
Let your printer produce the Out of Paper error
Usually, that error message will give you the option to abort the print job
If not, look in your printer control panel and delete the print jobs

You may wish to abort the print job if you immediately detect that the printer settings are incorrect, such as: paper type, paper size, print quality etc..
For your first time using this feature, do a small print job to become familiar with this feature.
Limitations:

Batch printing operations require many things to be correct on your computer. Such as:
You have enough hard drive space available for the printer spool files
Spool files can be 100 megabytes per sheet of paper
If you have created a 10 page print job, you may need 1000 Megabytes (1 Gig) of free disk space
You have enough paper loaded
You have enough ink in your printer
You do not have a paper jam
Your printer has up to date drivers